Post by GhostComanche©® on Mar 22, 2021 2:08:18 GMT
Something about Hybrids
Keith Bartlett at
theweekendanglersguidetogoodfishing.wordpress.com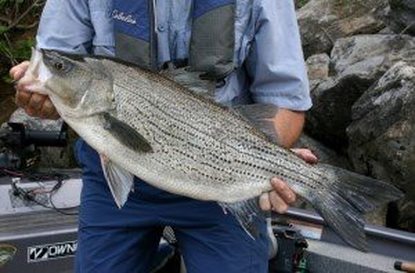 I'm often asked, "What is your favorite fish?" I have a hard time answering that question because I have many favorites. I know, by definition, a favorite is the best of the best. But it's like being asked which grandchild is my favorite. It's a question that simply can't be answered because each is special and loved the most for different reasons. So I can't choose a favorite fish, but several come to mind that compete for the title. Rainbow trout hold a special place on my favorite's list because I learned to fish catching them in stock ponds and streams. They are great fighters, often jump during the fight, have vivid coloration, and are commonly found in some breathtakingly beautiful places. Smallmouth bass are high on my favorites list because they're present in both river and still-water habitats, receptive to many styles of lures and baits including topwater lures, and fight like pit-bulls on steroids with frequent airborne bursts. Brown trout, largemouth and spotted bass also run high on the list for some of the same reasons. An overly aggressive nature and above average size, attributes I value highly, move northern pike into the lead pack. But there's a newcomer on my list of favorites that's moved up in status recently: the hybrid striped bass.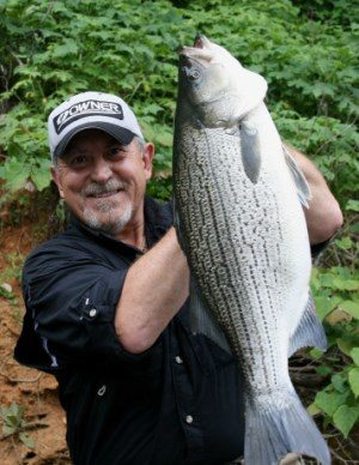 Hybrid striped bass are as foreign to North American waters as a fish could be because they're man-made, a cross between an ocean-run striped bass and freshwater white bass. The original cross was between a female striper and male whitey, though the reverse is more common today in most hatcheries across the country. Regardless the parental mix, a hybrid is a hybrid, indistinguishable without biochemical tracing. All three are members of the Temperate Bass family, also known as "true basses" whereas large and smallmouth bass are members of the sunfish family. The hybrid shares the behavioral signature of both parents. Like stripers, they are ceaseless wanderers who prefer areas in reservoirs or rivers where water temperatures run lower. But they're more aggressive than striped bass with a tolerance for higher water temperatures, similar to white bass. Top-end size for hybrids leans toward the striper parent with the current world record at 27 lbs.-5 ozs. So hybrids come with their own set of credentials. They grow to good size, are aggressive, and adapt well to a range of habitats. And like both parents, they're powerful fighters, who readily strike a variety of lures including topwaters. With such a resume these fish should rank high on any angler's favorites list.
My fondness for hybrids developed over time, a relationship built through incidental contact as I chased striped and white bass. Hybrids, sterile except in rare instances, don't know they can't reproduce and charge up feeder-rivers in early spring to spawn. My first encounter with a big hybrid occurred years ago on a river in Georgia while fishing the spring spawning run for stripers. The ten-pound fish struck a ½ oz. white bucktail jig and curly-tailed grub on a sand bar and fought like a much larger fish. Even after landing it I assumed it was a striped bass, but the fish looked stocky with a small head and broken lines above and below its lateral line. After some careful measurements I discovered it was a hybrid, a monstrous fish considering the record size in the system I was fishing was a tad above twelve pounds. I've learned much more about these impressive fish since that first encounter and often target them from late spring through early summer. And they are the rock-stars of topwater fishing in fall when surface schooling begins. Actually, it was an incident one fall afternoon on Boone Lake in Tennessee that moved these fish on my favorites list. It wasn't an exceptional day of fishing or record-breaking fish that moved them there; it was a royal tail-whipping that destroyed equipment, humbled me, and left an impression of deep respect.
It was a perfect fall afternoon on Boone Lake with a mix of fluffy white clouds, light winds and a crisp chill in the air. I'd run several miles up lake, pausing occasionally to look for baitfish, when I found a place filled with large balls of shad packed close to the surface. The crescent shaped marks below them left no doubt game fish were about to hit the dinner table so I turned off the motor and sat back to wait for the fun to begin. Moments later another boat rounded a bend down lake, cut power, and began idling toward me. "Are they up yet?" asked the sole occupant of the boat as he approached. I told him I'd not seen any fish break but could see large arcs below shad on the depth finder. In a matter-of-fact southern drawl the gentleman told me, "Well, it's gonna break loose here in about fifteen minutes". Apparently he'd been on these fish the previous two days and learned their dinner bell rang at precisely 6:00pm. He couldn't have been off more than a couple minutes. When fish suddenly started breaking all around me, I could see there were some big ones in the mix so I grabbed a heavy Fenwick spinning rod rigged with a popping lure and began casting into the frenzy. Moments later a big fish struck so hard, my rod exploded into three pieces in my hands. I'm not sure if the line wrapped around the tip as I worked the lure or my drag locked up from the force of the strike but the consequences were disastrous. I collapsed in my seat, stunned, and started unraveling fishing line from around my head as expletives filled the air. My companion continued to cast and catch fish, a mixture of black bass and hybrids. He once drifted close enough I heard him say something about how great hybrids fight, or some other grossly understated gibberish. I was devastated as I sat there watching fish boil the surface around me. I accept the fact that, occasionally, the fish wins. It adds to the challenge and goes with the territory. But it goes beyond defeat when good equipment is destroyed. I'd used that Fenwick rod for many years and it was my first choice for presenting smaller lures to stripers and hybrids. Later, after I recovered and thought about it, I decided to have a rod custom made to replace it. Having a rod custom made for a specific fish and range of presentations is a serious commitment. But I became so enchanted with these powerful game fish I was determined future rematches would occur on a more level playing field.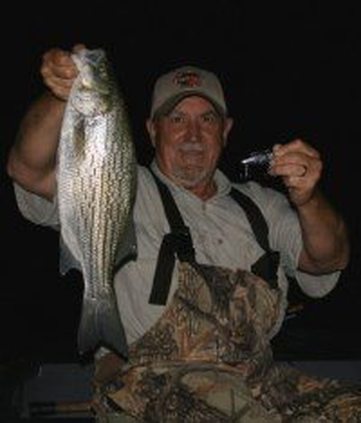 I've enjoyed exceptional spring fishing for hybrids this year, focusing on them as soon as surface water temperatures eased into the sixty-degree range and baitfish moved shallow to spawn. One of my most productive ways to catch hybrids in reservoirs in spring is fishing at night with rattling lures. Rat-L-Traps are personal favorites but other brands in ½-ounce sizes with chrome finishes work well too. Carry a few bucktail jigs with grub trailers and topwater lures, such as Red Fins and poppers, and you'll be able to offer a variety of effective presentations to hybrids when you find them. Shallow-sloping featureless flats along main channels that are loaded with baitfish attract these game fish at night. Use rattling lures as search baits to cover the water column from just below the surface to along bottom. An especially productive presentation I've learned is to make a long cast, allow the lure to sink to the bottom, and begin a slow steady retrieve. Retrieve the lure a short distance, stop, let the lure fall back to the bottom, and begin the same slow steady retrieve again. Repeat this sequence all the way back to the boat. You'll grind the paint off the nose of your favorite rattling bait and you'll need a supply of replacement treble hooks because the hooks get dulled, but stay focused and keep a firm grip on your rod because every time the lure darts off bottom a hybrid may smash it so hard it will shock you.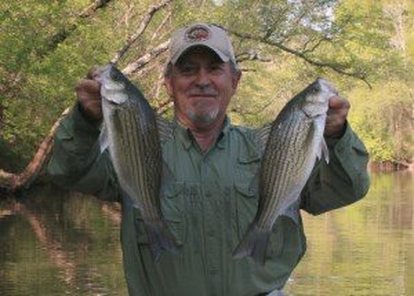 A few weeks ago, a call from a friend changed my focus from fishing in reservoirs for hybrids to a tailrace below a local dam. He told me he'd been fishing there for rainbow and brown trout but all he caught was a couple big hybrids and a striper. It's not uncommon to find striped and hybrid bass in the swift water below dams throughout the warmer months but I'd never fished this tail-water for either. I couldn't pack the boat and rig my new custom-made hybrid rod fast enough. After I arrived and began fishing, I quickly learned hybrids may show up any time of day when the flow from generation is right. Low to moderate generation offered the best fishing whereas periods of high flow made boating hazardous and controlled presentations almost impossible. However, during low to moderate generation, groups of feeding hybrids would suddenly appear in the swift water and begin smashing lures. I tried several proven striper/hybrid baits including topwaters but suspending four- to five-inch minnow lures with various diving depths in natural baitfish colors were the best choices. The best retrieve speed, lure color and operating depth varied based on conditions so I had to experiment each trip to find the right combination. My first successful trip netted two hybrids with a combined weight just above twenty-one pounds. My best day produced four nice hybrids including a twelve-pound fourteen-ounce giant and a bonus striped bass that weighed a little under twenty-seven pounds. It doesn't sound like many fish but when each takes fifteen minutes or more to land, the payoff is well worth the time spent and you tire quickly. And I'm pleased to report my new custom-made rod has handled the job very well. Other than one break-off by a giant that decided to go downstream through shallow water, I've landed every fish that smacked my lure. So I've fully recovered from that earlier tail-whipping and my respect and admiration for these great game fish has grown. If you live close to a reservoir or river system where hybrids are present, invest the time to learn how to catch them. I'm sure you'll be impressed with their aggressiveness and power. To be honest, if hybrids jumped during the fight, they could move to the top of my favorites list.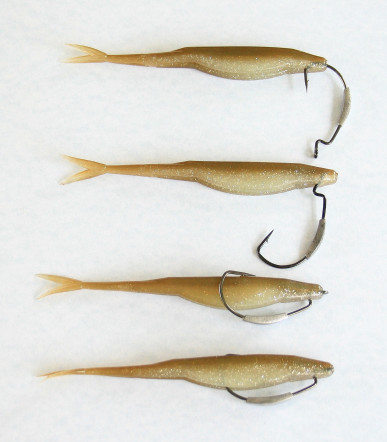 To rig a Fluke weedless for river fishing:


First insert the hook point of a weighted EWG hook in the nose of the bait.


Then remove the hook, wet the hook-eye and insert it in the exit hole under the nose.



Finish with a standard Texas-rig with the point of the hook skin-hooked on top the lure's back