Post by GhostComanche©® on Mar 22, 2021 2:03:59 GMT
Heating it up with Hybrids
by Bob Bledso at
www.gameandfishmag.com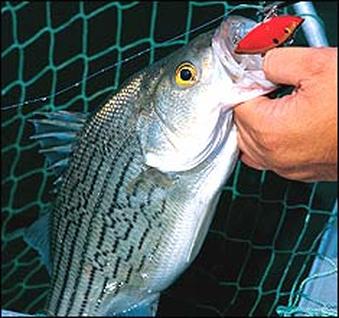 Hot action with hybrid stripers is waiting for Oklahoma anglers on select waters across our state — and this month, these venues might be the hottest!
For the first couple of decades after white/striped bass hybrids were produced and stocked in Oklahoma waters, I was a full-time outdoor writer, covering hunting and fishing and related topics for a newspaper, sometimes for radio stations, and for numerous outdoor-oriented magazines.
Throughout that period, I talked with dozens – maybe hundreds – of Oklahoma fishermen who'd had their first encounters with hybrids, and who came away marveling at the experience.
There's an old adage that says: "It's not the size of the dog in the fight that's important; it's the size of the fight in the dog."
If the person who first made that statement had been a fisherman catching hybrids, he might have substituted "fish" for "dog." I know of no other freshwater fish that fights harder, pound for pound, than a white/striped bass hybrid. They're incredible battlers.
They also go by several aliases: "wipers" in some states, "Cherokee bass" or "sunshine bass" in others. In North Carolina, they are officially named "Bodie bass" after venerable outdoor writer Bodie McDowell, who campaigned for state hatcheries to produce and stock them. But no matter what you call them, these hatchery-produced crosses between the striped bass and their white bass relatives are a wonder.
Essentially unable to reproduce naturally, the hybrids are a valuable addition to modern fisheries. States can stock the popular species without fear of their overpopulating and wiping out a forage base or outcompeting a native species.
In the late 1970s and 1980s, anglers at some lakes were clamoring to get striped bass stocked in their favorite fishing holes. But there were other anglers, usually enthusiasts of largemouth bass or crappie, who fought aggressively to prevent stripers from being stocked. Their main fear was that the stripers would take over their lakes and crowd out their more favored species.
Hybrids became the logical solution in many waters. Since they don't reproduce in the wild, their numbers can be controlled. And since they grow rapidly, if they have an adequate food supply, they can provide tremendous angling opportunities in a relatively short time.
That they turned out to be maybe a better battler than either of their hard-fighting parent species was just a bonus, but one that anglers love.
Altus-Lugert Reservoir holds, at this writing anyway, the state record for the hybrids. It is a 23 1/4-pound specimen that was caught there in 1997. Believe me, that's a big hybrid!
Hybrids are open-water roamers. In the spring, they run up rivers and creeks like both of their parents do during the spawning season, but by this time of year, most of the hybrids are back in the reservoir basins and are traveling in schools, chasing shad and hunting in packs.
I was one of those fishermen who could hardly believe how hard these fish fought. I had caught thousands of sand bass and hundreds of striped bass before I ever hooked my first hybrids. That was at Sooner Lake, between Ponca City and Stillwater.
I caught my first hybrid by trolling a crankbait on 10-pound-test line. It took me several minutes to land the fish, which weighed about 3 1/2 pounds. The fish peeled line off my reel so fast that I was sure I had at least a 10-pounder. I was totally surprised when we netted that fish and saw its size.
Over the next few years I caught hybrids at Sooner and at Konawa Lake, both of which are cooling-water reservoirs for electrical power-generating plants. I also caught them at Grand Lake. It was almost always on bass tackle – 8-, 10- or 12-pound line and rods with some play in them. I always went home talking about how hard the hybrids fought, compared to other fish.
But it wasn't until I took a trip with fishing guide Clarence Boatman, of Sand Springs, on Skiatook Lake that I really appreciated how hard these fish fought. Boatman and I had several mutual friends and had bowhunted together a time or two. He told me about some of the fast early action he and his customers were getting on summer mornings by fishing live shad at Skiatook.
He was catching gizzard shad at Lake Keystone and carefully transporting them to Skiatook in his boat's aerated, iced-down bait well.
Usually if I have to fish with any kind of live or prepared bait, I'll pass it up. I like fishing with artificials. Also, Boatman's boat was equipped with broomstick-action rods and reels that would have looked more at home on an offshore billfish boat than on an inland reservoir. On his big deck boat were a dozen or so "boat rods" with Penn saltwater reels attached. The reels were spooled with line of at least 40-pound-test.
How much fun can it be, I thought to myself, catching 5- or even 10-pound fish on this kind of tackle? I envisioned winching every fish in quickly – about as much fun as cranking my boat back onto its trailer at the boat ramp.
My morning with Boatman started off slow. We got to the lake before sunrise and tried a couple of spots, catching only an errant channel catfish before we had any success. At each spot, Boatman anchored his rig and put out four baited lines.
I was probably glancing at my watch, wondering how long it would be before I could go home, when the first rod tip snapped over and the rod butt rattled in its holder. We both leapt for the rod. Boatman grabbed it, pumped it a time or two to set the hook, and then handed me the rod.
Given the sturdiness of the rod and line, and the winch-like qualities of the reel, I thought I would crank the fish in quickly. So I was shocked when the fish pulled so hard that I had to hang on tight just to keep possession of the rod. I applied so much pressure that I was afraid I'd rip the hook out of the fish's mouth, and still the creature on the end of my line charged beneath the boat, bowing the tip of the heavy-duty rod toward the water.
When I finally got the fish to the surface, where Boatman had a big landing net ready, I was shocked to see that the fish probably weighed no more than 5 pounds, 6 at the most. I've caught 20-plus-pound stripers that didn't fight as hard!
We caught several more hybrids that morning, and with every one of them, I was astounded at how hard they could fight against such heavy tackle. It's one thing to call a fish hard-fighting when you're u
sing a whippy spinning rod. But when you're using a rod and line with which you could lift a 5-gallon bucket of paint onboard, and that fish still nearly eats your lunch, you know you've got a scrapper.
OK – enough about the fish's fighting ability (that's become almost a cliché, anyway). Let's talk about where to catch hybrids in Oklahoma this summer.
The first Oklahoma stocking of hybrids occurred in 1977 at Sooner Lake, and they've been stocked at many lakes large and small in the quarter-century since. The Oklahoma Department of Wildlife Conservation virtually quit stocking striped bass in state waters several years ago, with rare exceptions, but stockings of hybrids continue.
In 2002, hybrids were stocked in Birch, Canton, Carl Blackwell, Ellsworth, Fort Cobb, Foss, Konawa, Oologah, Overholser, Ponca City, Sahoma, Skiatook, Sooner, Tom Steed and Waurika lakes. Those fish should be showing up on angler's lines this year.
The 2002 population samples, done by netting, showed four lakes with "excellent" ratings – based on both numbers and sizes of fish captured – and several other lakes with "above-average" populations. Lakes rated as excellent included Birch, Foss, Konawa and Skiatook.
In the population samples, biologists and technicians estimate the percentage of the hybrid population made up of individuals greater than 15 inches in length.
At Birch, 63 percent of the hybrids exceed that number. At Konawa, a whopping 69 percent exceed 15 inches. At Skiatook, 56 percent surpass that mark. But the real leader is Foss Reservoir where an almost unbelievable 91 percent of the hybrid bass population tops 15 inches!
The state's major river systems are now populated with limited numbers of hybrids because of escapes through dams and "angler transplants." I've seen them caught below Eufaula Dam on the Canadian River. The biggest specimens I've personally seen caught have been below the Fort Gibson Dam on the Neosho (Grand) River, a short distance above its confluence with the Arkansas and Verdigris rivers at Muskogee.
In tailrace fisheries, you may catch white bass, striped bass or hybrids, depending on which dam/river you're fishing and what baits or lures you're using. Fishing guide J.B. Bennett of Okmulgee, one of the region's best-known striper guides, catches hybrids on the same tackle and techniques he uses for catching stripers below Eufaula and Fort Gibson dams.
There are several techniques that are productive for catching hybrids, with both live bait and artificials
Most of the best bait-fishermen I know use gizzard shad – 5-inch or larger shad – as their No. 1 hybrid bass bait, with small sunfish coming in second. Either fish can be drift-fished, fished below a balloon or a float, or hung straight beneath a boat on a tightline. The tricky part of fishing with shad, though, is keeping the bait alive long enough to use it. Shad are very sensitive to handling, to water temperature stress and to water chemistry. Guides and avid hybrid and striper bait-anglers usually have large, well-insulated bait tanks aboard their boats. Some guides catch shad with hoop nets dragged through the water, but most use cast nets.
As I said, I don't do a lot of bait-fishing, but I've caught lots of hybrids on topwaters, crankbaits, slab spoons and jigs. At Grand Lake I've caught hybrids on topwater plugs when they surfaced in mid-lake, chasing shad just as white bass do. I haven't done it lately, but for several years my friends and I found schools of hybrids surfacing in the area between Monkey Island and Drowning Creek, usually by watching and listening for splashing or watching for diving, feeding seagulls.
Just about any shad-colored white or silver topwater plug will get hit when thrown into a school of feeding hybrids. My most effective plug was one for which I don't even know the name. It was an old plug made by Fred Arbogast. It lay on its side and made a lot of splashes when retrieved with a twitching motion. The hybrids, and sometimes the sand bass, seemed to love it.
I also have a small minnow-style plug that can be "walked" on the surface; with it I've caught numerous schooling hybrids. That plug is transparent and, except for a little baby-blue paint on the nose, colorless; it also sports a weighted tail, which makes it sit nose-up in the water.
Applicable to a wide variety of conditions, the crankbait may be the best artificial lure for hybrid fishing. It can be trolled or cast, fished in tailraces, rivers and lakes. Some of the best stringers of hybrids I've seen come from Oologah Lake were caught by trolling crankbaits along submerged ridges on the lower end. Crankbaits can take deep-water fish lurking near structure or cover and can draw strikes from open-water roaming schools. They can be used to catch hybrids prowling windswept shorelines where baitfish are stacked up near the bank.
Again, shad colors – pearl, white, silver or some combination – are usually the best performers, but I've seen hybrids caught on fire-tiger patterns and on bright chartreuse crankbaits, too.
And then there are jigs – probably the best, most versatile lures in the world, no matter what you're fishing for. J.B. Bennett relies on jigs much of the time for catching hybrids and stripers in tailrace waters, and in rivers and lakes. Below tailraces, he may suspend one or more jigs beneath popping corks.
Jigs are also good for probing windswept banks for feeding fish and for casting into surfacing schools of hybrids in open water. Putting two, three or more jigs a foot or so apart on a single line can make a very effective rig for casting into schools of feeding sand bass or hybrids. I've filled up every hook with sand bass on a single cast, but I've never caught more than one hybrid at a time that way. I can't imagine what kind of fight might result with two or three hybrids caught on a single line! I suspect they'd probably break the line or pull the hooks from each other's mouths.
I've caught hybrids both on jigs dressed with soft plastic and on jigs dressed with marabou or hackle feathers. Bennett relies a lot on jigs tied by a friend, Mike Bolt, that are dressed with a few turns of chenille and a couple of hackle feathers. Plastic shad bodies are a popular jig dressing for catching hybrids, stripers or sand bass. The shad bodies come in many sizes for fishing with just about any weight of jighead.
As with the other lures, stick with shad colors most of the time. It doesn't hurt, though, to try some variations now and then. Sometimes when plain white isn't working for me, I'll try a jig with a red or fluorescent orange head. Or perhaps even a Road Runner (spinner-jig) to see if that triggers a strike. I once caught a nice 4-pound-plus hybrid while probing for crappie in an oxbow along the Verdigris River navigation channel. It took a long time, and a lot of luck, to land that hybrid on 6-pound-test line in that brush-filled oxbow. Several times my line wrapped around snags, only to have the fish change directions and free the line without breaking it.
Slab spoons are the final category of lures that are frequently used to catch hybrids in Oklahoma lakes. For some reason, I've not had a lot of luck with those lures on hybrids. I've caught tons of sand bass, plus quite a few stripers, on slab spoons. I've even devoted entire trips to catching largemouths on slab spoons.
I know other anglers who've caught quite a few hybrids by pulling slabs through surfacing schools, or by bouncing them through schools that they've seen below them with sonar. The only hybrid I've caught that way came from Lake Eufaula, which doesn't get stocked with hybrids, except for one small stocking and a few "escapees" from the Oklahoma City lakes upstream.
Hybrids are, without a doubt, one of the most impressive fish you'll ever find on the other end of your line. Pound for pound or inch for inch, I would put hybrids up against any fish I've ever caught – in fresh water or salt – in terms of fighting ability.
Summertime is probably the best time to fish for them in Oklahoma. Even bank-fishermen and waders have a good chance at catching hybrids at this time of year, when the schools roam riprapped shorelines along dams or roadbeds, or chase shad onto windblown shorelines.
But hang on to your rod – or you might lose it!