Post by GhostComanche©® on Mar 21, 2021 23:55:52 GMT
Parasitic Copepod Affect Striped Bass in Virginia Lakes
by David Johnson at
www.ArkansasStripers.com
| August 10, 2002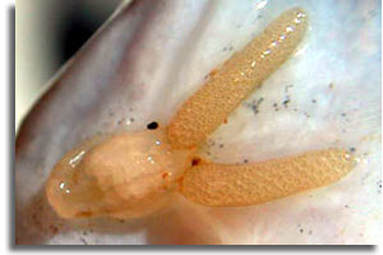 The copepod (Achtheres ssp.), sometimes called gillmaggots, have infested populations of striped bass and resulted in severe fish kills and has been identified in Virginia lakes.
Where the the kills of Striped Bass occurred it was directly linked to stress and infestation of the parasite. Achtheres should not cause significant harm to healthy fish. However, heavy infestations could lead to secondary bacterial and fungal infections in fish already compromised by poor water quality or poor condition. These secondary infections could lead to a limited amount of fish mortality.
Smith Mountain Lake in Virginia has been the hardest hit by the parasite and most of the trophy striped bass were killed in 2003. The Virginia natural resources agency gives out certificates to anglers who catch striped bass over 20 lbs, and up until 2003 they gave out an average of 150 certificates. After the kill in 2003, this number had dropped to an average of seven certificates in 2003 and 2004.
The kill in Smith Mountain Lake occurred in the winter and spring of 2003, after a large-scale threadfin shad kill in winter. The fish affected by the parasite were in poor condition due to lack of forage.
Another kill occurred on Norris Lake, TN and the parasite was found in large numbers on dead striped bass. Once again, abnormally warm water temperatures that were caused by high flows stressed the striped bass population.
The Copepod parasite has only caused fish kills when some type of stressor is involved.
Where has the copepod been found?
The parasite has been found in the following reservoirs and watersheds in Virginia, North Carolina, Tennessee, Virginia, North Carolina and Arkansas.
1981 - Tellico Reservoir, TN - largemouth bass
2000 - Watts Barr Reservoir, TN - striped bass
2000 -Tim's Ford Reservoir, TN - striped bass
2001 - Melton Hill Reservoir, TN - striped bass
2001 - Watauga Reservoir, TN - 1 smallmouth bass
2002 - Old Hickory Reservoir, TN - striped bass
2002 - Norris Reservoir, TN - striped bass
2002 - Smith Mountain Lake, VA - striped bass2003 - Kerr Reservoir, VA - striped bass2003 - Leesville Resrvoir, VA - striped bass
2004 - Lake Norman, NC - striped bass
2004 - Lake Gaston Reservoir, NC - striped bass
2004 -Tellico Reservoir, TN - 1 striped bass
2004 - Smith Mountain Lake, VA - largemouth
2004 - Cherokee Reservoir, TN - black bass
2005 - Cherokee Reservoir, TN - white bass (angler report)
2006 - Ouachita Lake, AR - striped bass
2006 - Fort Patrick Henry Reservoir, TN - striped bass (angler report)
2006 - Hiwassee River, TN - striped bass (angler report)
2007 - Cherokee Reservoir, TN - striped and hybrid striped bass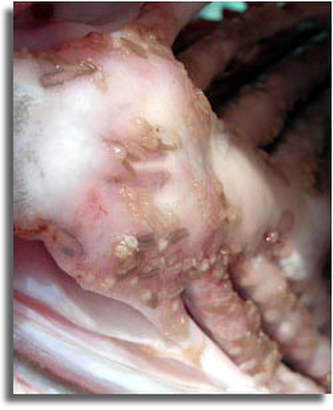 Where did the parasite come from?
Evidence gathered from kills in Virginia and North Carolina suggest that the parasite in fairly new to these areas. Previous research on the parasite in Europe showed that a heavily infested fish would have 7-8 copepods inside the mouth. It was also shown that approximately 30% of the population was infested with the parasite. A few striped bass collected in Smith Mountain Lake had over 400 parasites attached inside the mouth and every fish that biologists have captured in the past two years has had some level of infestation (incidence rate of 100%). This evidence suggests that the striped bass in Smith Mountain Lake may be naïve to the parasite and are heavily infested.
Dan Wilson (VA) has shown that the striped bass parasite showed up in the headwaters of the Roanoke River and has eventually moved down the river system into bordering waters of North Carolina. This suggests that the parasite is spreading throughout the system and may have been introduced.
Others believe the parasite has been around for a long time and conditions are right for it to cause fish kills. These fish kills have put the parasite on the map.
Other species can carry the Copepod parasite
The parasite has been found on a variety of fish, but fish kills have only occurred in striped bass populations. Biologists from Tennessee have found the copepod in small numbers on largemouth and smallmouth bass.
Identification and life cycle of the parasite
The copepod is easily identified in its adult life stage and can be found inside the mouth of adult striped, largemouth and smallmouth bass. The parasite will attach to the gill cartilage, mouth and tongue. Two large egg sacks are indicative of adult females attached in the mouth.
The life cycle of this copepod is similar to other species of parasites, where sub-adult life stages can be found on the gill filaments. These life stages mature and migrate to the inside of the mouth to release eggs and infest other striped bass.
Treatments options
Anecdotal evidence has shown that high concentrations of salt can effectively control the parasite. Employees for a large aquarium in Virginia have eliminated the copepod from striped bass by switching from freshwater (salinity 1-5 ppt) to saltwater (20-25 ppt salinity).
Good news
Thankfully, the parasite does not cause fish kills in every lake where fish have been found to harbor the pathogen. The copepod has been found in the following lakes in Tennessee, but no striped bass kills have occurred: Watts Bar, Tims Ford, Old Hickory, Tellico, Melton Hill, and Cherokee. All kills took place when striped bass were exposed to stressful conditions (high water temperature and limited forage).
Parasite did not seem to affect smaller fish (up to 1 ½ years of age—20-24").
Kills have subsided and there have been no repeat kills.