Post by GhostComanche©® on Mar 21, 2021 20:50:16 GMT
Favorite Lures of the Striper Guides
by Joe Cermele at
www.fieldandstream.com
Happy clients are those with bent rods, and nothing bends a rod like a fat striped bass. But to get in on the action, you've got to know which lures are dependable day in and day out. According to these pro striper hunters, these are the lures that kill.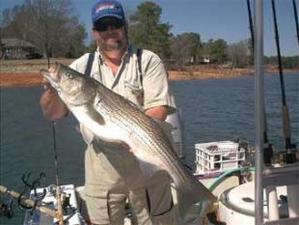 Randy SaligaLocation:
Lake Murray, South Carolina
Credentials:
Saliga has called Lake Murray his home water since 1986 and now runs over 120 trips per season in pursuit of stripers. Fish weighing over 30 pounds are not uncommon for this pro.
Number of years guiding:
17
Contact:
(803) 364-2971;
www.blueheronguide.com
​
Favorite Hardbait:
Rebel Spoonbill Minnow
Color:
Silver/blue
Size:
4 ½ in.
Weight:
½ oz.
Details:
"Whether trolling or casting, I've always found these lures very easy to work. They have a consistent action that has always produced for me. When you're trolling a diving lure with multiple treble hooks, stripers are going to set themselves. Sometimes clients insist on setting the hook anyway, which is okay, but you can't over do it or you're more likely to pull the hooks."
Favorite Topwater:
Heddon Zara Spook Puppy
Color:
Clear
Size:
3 in.
Details:
"I know clear seems like an odd color, but the stripers react very well to it early in the morning or on cloudy days. Our topwater action is typically best during low light conditions. I think the trick to catching fish on Spooks is maximizing their time in the water. There's no need to rush a retrieve, especially since you want the lure to look injured. I have my clients cast out, turn only one half-crank and twitch. This will keep the lure working properly and it will stay in the zone longer."
Favorite Soft Plastic:
Slug-Go
Color:
Chartreuse
Size:
4 in.
​
Details:
"I really like these lures for working around hydrilla. It's hard to fish heavy cover like that with other lures, so soft plastic jerk baits are my choice when the bass are in the weeds. Anglers think soft jerk baits require a slow finesse, but I find that the faster the retrieve the better. This is especially true in heavy cover. I'll work them fast right over the hydrilla or along the edge. The lure will draw the fish out and they just slam it.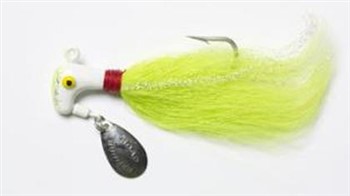 Favorite Jig:
Blakemore Roadrunner Bucktail
Color:
Chartreuse/White
Weight:
½ oz.
Details:
"By far, Road Runners are my top producer. Their versatility for fishing all kinds of water and with all kinds of methods from trolling to jigging is unmatched. If I'm jigging a Road Runner, I'll usually tip them with a soft plastic grub or ribbon tail worm for added action, but when I drop I'll reel one or two cranks and stop. The stop gives the bass a chance to catch up, and that's usually when the grab it."
***********************************************************************************************************************Gene QuigleyLocation:
Manasquan, New Jersey
Credentials:
A fly and artificial specialist, Captain Quigley has earned a reputation as a top guide on the Jersey Coast, putting clients on stripers up to 58 pounds.
Number of years guiding:
16
Contact:
(732) 528-1861;
www.shorecatch.com
Favorite Hardbait:
Gag's Grabbers Mambo Minnow
Color:
Yellow/Pearl
Size:
5 in.
Weight:
5/8 oz.
​
Details:
"The Mambo has a very unique wobble. It's extremely tight, which I think most accurately matches the movement of many baitfish. They also have great action no matter what speed you use on the retrieve. Something I've noticed that works really well with these lures is reeling very fast and stopping abruptly so the lure suspends. I often catch more bass when the lure hangs than I do during a steady retrieve."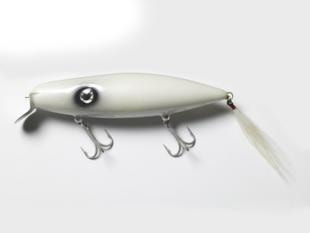 Favorite Topwater:
Pajama Plugs Metal-Lip Swimmer
Color:
White
Size:
7 in.
Details:
"Lots of metal-lip swimmers only perform well in calm water or when there's a chop, but the Pajamas have great action in all conditions. Fished correctly, a metal-lip will draw bass up from deeper water. Anglers move in on a blitz and are in such a hurry, they cast and retrieve this style of lure too fast. You have to have patience with metal-lips. You need a slow retrieve to achieve the right action on the surface. Too quick and all they do is spin."
Favorite Soft Plastic:
Hogy
Color:
White
Size:
10 in.
Details:
"Hogy Lures are hand-poured and nothing in the world moves like one in the water. I use them a lot because they match all kinds of forage from eels to large bunker. Hogy makes a double-hook rig that you can buy with their baits and I prefer it. The hooks are heavy-gauge, so they add just enough weight to keep the lure tracking an inch or two under the surface. You don't want this type of bait skipping on top."
Favorite Jig:
AVA 47 Diamond Jig
Color:
Silver, undressed hook
Size:
5 in.
Weight:
3 oz.
Details:
"Diamond jigs are absolutely one of the most versatile lures out there when the fish go deep. I prefer a plain hook without a tube. The size 47 gets down to the bottom really quickly and mimics everything from sand eels to peanut bunker. Rather than letting the lure hit bottom and start jigging up and down, I'll tell my clients to let it hit, then crank as fast as they can. When the lure reaches midway up the water column, I'll say drop it back down. We call this speed-jigging, and it often produces more reaction strikes from bigger bass."
***********************************************************************************************************************Bill CareyLocation:
Lake Texoma, Texas
Credentials:
Since 1983, Bill Carey has been guiding for, writing about, and hosting TV shows on the stripers of famed Lake Texoma. Carey's outfit averages about 350 trips per year.
Number of years guiding:
25
Contact:
(877) 786-4477;
www.striperexpress.com
Favorite Hardbait:
Rat-L-Trap
Color:
Chrome
Weight:
1 oz.
​
Details:
"Striped bass have a very long lateral line that is designed to pick up vibration. Rat-L-Traps produce a lot of rhythm and sound that the fish home in on. When I retrieve a Rat-L-Trap, I'll reel three cranks and quickly sweep the rod. After the sweep I pause and let the lure float up a little. Bam! There's your strike."

Favorite Topwater:
Cotton Cordell Pencil Popper
Color:
Chrome/Blue Back
Size:
6 in.
Weight:
1 oz.
Details:
"In Texas you can throw topwater for stripers eight months a year. These lures are loud and work well blind-casting against the banks early in the morning. If the action is furious and you're releasing fish fast, you can also grab these lures without getting hooked because they're so long and the first treble hook sits far back. I always tell my clients, when a fish takes a pencil down, don't strike. Wait for the rod to load on it's own. If you try to whack the fish, you'll have a big lure with two big treble hooks flying at your head."
Favorite Soft Plastic:
Mister Twister Sassy Shad
Color:
Luminescent
Size:
4 in.
Weight:
½ oz. jighead
Details:
"I like these shads for the simple reason that our water is often off-color. White has great visibility and the kicking tail ups the vibration level. You always want to cast a shad into the wind to ensure it will reach your target depth. When you retrieve, you never want slack in the line. Always reel fast enough to keep contact. "
Favorite Jig:
Blakemore Roadrunner Bucktail
Color:
White
Weight:
1 oz.
Details:
"These jigs produce our biggest stripers that hold on deeper structure December through March. They've always been a favorite since you can reel steady or vertically jig them. I seem to catch even more stripers on these jigs if I tip them. Gizzard shad make up 92% of the stripers' diet in Lake Texoma, so I'll add a soft-plastic grub to these jigs in white with a chartreuse tail to match the forage colors.
***********************************************************************************************************************Bill McBurneyLocation:
Lake Powell, Arizona
Credentials:
The second licensed captain ever to charter on Lake Powell, McBurney has led clients to numerous stripers over 30 pounds, and specializes in all methods from trolling to fly fishing.
Number of years guiding:
30
Contact:
(928) 645-0352;
www.ambassadorguides.com

Favorite Hardbait:
Storm Deep Thunder
Color:
Mullet
Size:
6 in.
Weight:
2 oz.
Details:
"These lures dive to 30 feet and troll well at pretty much all speeds. They're my favorite during pre-spawn in the spring when we need to cover lots of water looking for big females that haven't joined the males on the staging points yet. I always keep a small can of quick-drying orange spray paint in my tackle box to quickly add some color to the belly of my hardbaits. Carp are a pretty big forage for Lake Powell stripers, and that orange belly makes the lures more accurately represent them. It also adds that much more color and flash for stronger visibility."
Favorite Topwater:
Heddon Zara Spook
Color:
Black Shiner
Size:
4 in.
​
Details:
"Zaras have always produced well on Lake Powell. I think the steady cadence you can achieve at any speed makes them very versatile, and the Black Shiner, which is a chrome color can't miss as far as matching the bait. When stripers are up on top, they rarely refuse a Zara."
Favorite Jig:
Gitzit Tube
Color:
Pumpkin
Size:
3 in.
Details:
"Tube jigs catch lots of fish because you can vary the amount of weight you use to make them work in almost any situation. Likewise, you can let them sit still or work them quickly. They adapt well. The green pumpkin color seems to draw strikes in many water conditions and matches both crayfish and juvenile carp colors in Powell."
Favorite Soft Plastic:
Yamamoto Grub
Color:
White
Size:
4 in.
​
Details:
"I use quite a few different soft plastics, but if we're talking about a go-to, it's hard to beat a white grub. When all else fails, stripers will hit this lure. If fish are higher in the water column, I've even pulled them just under the surface to draw strike. I've alway got some white grubs on board."