Post by GhostComanche©® on Mar 21, 2021 20:24:20 GMT
A Deadly Fluke Rig for Striper
by Rob Lever at
www.advancedangler.com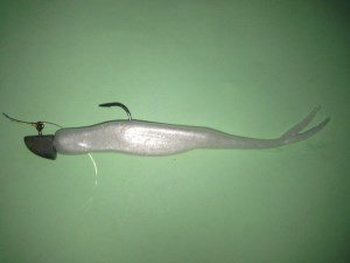 Being from the northeast I get presented with a wide variety of fishing opportunities. While freshwater bass fishing consumes the majority of my time, every spring I spend time chasing striped bass; or "Stripers," in the salt. Constantly looking for the fight of a fish that can get your heart jumping, this has had me turn to one of the best techniques I have used to date. And, it doesn't have to be done from specialized deep sea boats, even a bass boat will do.
Simply taking a soft plastic jerk bait and pairing it with a lead head can be a deadly combination when it comes to the schools of bass that frequent the waters off the coast. After many years of playing with different combinations I have come across the perfect pairing that can be used to get your adrenalin pumping and give you an experience you will never soon forget.
I think most anglers know of Zoom's Super Salty Fluke. Known for its versatility, "The Fluke" is an amazing bait that has bailed its share of anglers out on slow days. This technique adds to the list of uses for the fluke, and turns it into a saltwater power fishing mainstay.
When paired with the Lunker City Fin-S jig head the Fluke has a realistic flutter that fish can't resist. The Fin-S has Lunker City's patented "Lunkergrip" bait holder barbs that holds the bait in place. This design helps hold the fluke tight to the head when fishing in both fast current and also tide rips. This is important because most of your strikes are going to come with these conditions present.
The weight of the Jig depends on what water column you need to get too. The 1/8-ounce size works great for fishing around docks and areas where the current isn't too bad. This is great in early morning situations when fish can be found in shallow water. You can cover a lot of watertrolling and fan casting towards the shore.
The heavier1/4-ounce model is perfect for deeper fish and for strong current. Many times, with these types of conditions, you can see schools of fish protected from heavy current by bridge pilings. This is a great spot for a heavy jig head. Simply throw the bait into the current that is passing by the piling and let the bait do the work for you. As the bait moves by the school they will react and hit it.
The most important thing I have found about this set up is color. Two colors have proved to work in almost any condition. The White Pearl and the Albino have helped me have many amazing days, with both working from Spring to Fall months.
The rod, reel, and line set up for this is all preference. Most freshwater guys prefer a bait caster with saltwater guys preferring spinning tackle. I use a 6'6'' medium heavy Duckett Fishing spinning rod paired with a Lew's Speed Spin reel. Again, it's not specialized saltwater equipment, this is the same rod I use for some freshwater applications.
Line choice is also up to you, with my preference being on the lighter side. I want to be able to fight the fish but feel comfortable knowing that my line is safe. After much tuning I have figured out that 20lb braid with a 12lb fluorocarbon lieder is a great choice. Matched up correctly you should be able to make long accurate casts without putting much strain on your body or the equipment.
Retrieve this bait and you can see the deadly motion that is has. A twitch of your wrist during the retrieve makes the bait jump in the water column and the fluke tail moves just like a bait fish moving through the water. This sudden movement triggers bass's predatory nature, they can't resist from striking and killing it. The strike that feels just like a big bass crushing a spinner bait. I have had strikes that have almost ripped the rod out of my hand. Once you feel the strike use a sweeping hook set and hold on.
How you have rigged this set up is what makes it fun. You are searching for fish that can grow in excess of 40 pounds, and your ordinary largemouth bass rig can prove to be a fun way to fight it. Make sure your drag is set to let the fish pull line when needed. It might take a little longer to get that fish in, but it will help you land a bigger class fish that could easily snap your line.
My last point is not to get discouraged while fishing this set up. Many times blue fish can snag your bait and cut the line with their teeth and other times you could hook a monster that just is too big for your set up. This comes with the territory but worth the risk because my biggest fish on this set up was almost 40 pounds. Also do not be afraid to use this technique on freshwater. Many of the same situations I have seen "Stripers" hit this set up, I have also seen freshwater bass do the same. This can be a great way to catch the tricky suspended bass that we all encounter in summer months.
What are you waiting for? Get out there and try this rig! This is a great way to cover a lot of water and power fish is sort of a finesse way. The strike is addicting and the fight will keep you excited for the next fish. Tie on this versatile technique and you can enjoy some of the most productive fishing in both the fresh and salt water.