Post by GhostComanche©® on Mar 21, 2021 19:51:58 GMT
How To Catch More and Bigger Freshwater Stripers
By Brad Weigmann at
www.thefishingwire.com
Stripers are fast- growing, voracious predators always searching for the next meal. Often schooling in packs, stripers can be caught with both live bait and artificial lures. In forage-rich reservoirs stocked stripers flourish and large populations thrive while growing quickly to trophy size.
Catching more or bigger stripers often depends on the reservoir you are fishing. Anglers wanting to catch numbers of stripers should seek out lakes like Lake Texoma in Texas and Lewis Smith in Alabama. Both are known for a large population of modest sized stripers.
On the other hand, anglers wanting to catch trophy sized stripers need to fish reservoirs like Lake Ouachita or Beaver Lake in Arkansas. Both of these lakes are regulated to produce stripers in the 30-, 40- to 50-pound plus range.
"Over the years, my clients have landed big stripers up to 50 pounds. Personally, I have also caught a 50 pound striper and Beaver lake consistently produces big stripers every year," said Ed Chapko (www.striperguides.net) who has guided on Beaver Lake for 25 years. Chapko noted Beaver Lake is not known for numbers of stripers, but for size.
Beaver Lake has 487 miles of shoreline and covers 28,370 acres. The deep, gin-clear water has an abundant population of shad making it the perfect trophy striped bass lake. Stripers are stocked annually on Beaver Lake with over 160,000 striper fry and 60,000 hybrid striper fry stocked this year.
"Currently on Beaver Lake you can expect to catch stripers in the summer ranging from 8- to 12-pounds or in the winter and spring 12- to 16-pounds. However, Beaver Lake does have a population of trophy sized stripers that are caught every year," said Chapko.
Where you can expect to catch a striper on Beaver Lake depends on the time of year. Chapko noted stripers will move according to water temperature and dissolved oxygen levels. In the spring, Chapko will fish mud lines created by heavy rainfall from the river arms to the midlake area.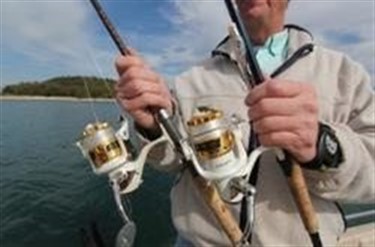 Once summer arrives, Chapko will move down lake and fish from the midlake to the dam area. As the lake starts its fall turnover, Chapko follows schools of stripers as they head into submerged trees moving in the direction of the midlake to river arms section away from the dam area. As winter sets in Chapko starts fishing anywhere on the lake where he locates large schools of baitfish because the stripers will be nearby. "Find the shad in the winter and you will find the stripers," said Chapko.
Chapko believes in the "big bait, big fish" philosophy, and uses big gizzard shad or huge striper lures to catch the largest fish. To catch more stripers on a guide trip, Chapko will often switch to downsized live baits and smaller lures. "When you are fishing for a trophy striper it takes a different approach and mind set. You are not expecting to get lots of big bites compared to when you are fishing to catch lots of stripers," said Chapko.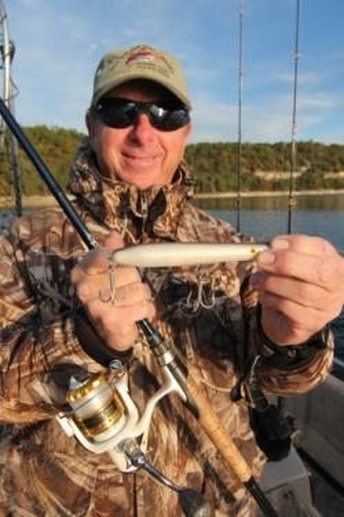 Downsizing to a medium sized reel makes sense when fishing smaller live bait. DH 3000z WaveSpin Reel was designed to handle smaller diameter braid and monofilament fishing line yet have the smooth drag to keep line from breaking when a bif fish takes hold. It's rated for 6- to 10-pound test making it perfect for rigging with a lightweight live bait rig or casting downsized lures long distances.
It's a completely different approach when Chapko is targeting trophy sized stripers. Chapko likes to use big gizzard shad from 8- to 10-inches in length or during the summer months down rig with 8- to 12-inch long lures. "Trophy sized stripers love eating a big live bait or lure," said Chapko.
Upsizing to a magnum sized lure requires a larger reel ready to take on the abuse stripers will inflect. DH 4000z WaveSpin Reel is not only the next size reel up, but was built with the purpose of conquering large, super powerful gamefish like stripers. It's rated for 8- to 12-pound test fishing line, but can accommodate larger diameter if an angler wants to increase line strength. For more on these reels, visit
www.wavespinreel.com
.
As for lures when striper fishing, Chapko loves to fish Rat-L-Traps with a chrome and blue color finish. "The best time for fishing Rat-L-Traps is in the spring and fall at night. I use the 1/2-ounce size in the spring and change to a larger 1-ounce size in the fall," said Chapko.
Chapko switches to a Cotton Cordell C-10 in a trout pattern when fishing for stripers that are suspending. "The large wake bait is a calling card for big stripers," said Chapko. One other lure Chapko likes to fish for stripers with on Beaver Lake is a Cotton Cordell Pencil Popper. "It's a great lure for catching actively feeding stripers anywhere on the lake," said Chapko.